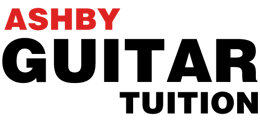 Guitar Lessons Ashby de la Zouch
A talented teacher and musician, Gary Crosby has helped many achieve their dreams
Through his guitar lessons. Gary has a flexible approach in developing students' individual musical needs and direction, whether it's in folk, lead, jazz, rock, blues, improvisation or theory. The school teaches using electric or acoustic guitars and can give advice and practical help before students purchase instruments. From a child, growing up in Sydney, Gary's life has developed around music and his guitars. He studied jazz guitar under two named tutors and spent time playing in Germany and Austria. Gary started teaching guitar lessons in 1993, is respected over the Midlands as a one to one centre of excellence. Gary Crosby is committed to fulfilling every student's needs.
His teaching is motivational and specific yet also fun. The School gives guitar lessons to a range of ages including mature students, to school children with keen desires and ambitions. Set in the heart of The National Forest, Ashby de la Zouch is a convenient location for people seeking music tuition across Leicestershire and derbyshire.
Here's what our students say
Gary has been a fantastic teacher for my son who is currently in his second year under his tuition and can play beautifully. Gary's tuition is rounded. Theory, reading music, chords and different techniques and styles. His friendly and patient approach helps impatient learners, gently guiding them to perfection. Overall an excellent tutor.
- Themis Gikopoulou
Gary has taught guitar to my son for a couple of years now and he has progressed to a very competent level. You will rarely find my son without a guitar slung over his shoulder (almost to the point of obsession!)and he can usually replicate a tune heard on the radio within minutes, just by listening by ear. Thanks for your patience, Gary: you instill a love of music in your pupils which should last a lifetime.
- Paula Reeves